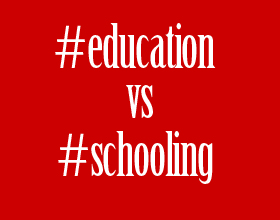 As an entrepreneur, I get this question quite often.
Especially in the Home Business circles or with Network Marketers.
I think the reason is simple, most people hate their jobs.
So when people decide to join the ranks of the 70%ers in the Network Marketing world, the first thing you here is fire your boss…
Or the college professors really didn't tell you about the 70 hour work weeks for $70k per year did they?
I wrestled in college, and really didn't have a clue as to what I wanted to be when I graduated High School.
Thank God I found my calling in Marketing and Sales… and graduated with a degree in marketing.
Have I used what I learned in college during this successful entrepreneur journey?
Very Little.
I always say, I received my bachelors in marketing from a college, but got my Ph.D in marketing in the trenches called "Real Life Experience"
I just read an article at Tim Ferriss's Blog (Author of The 4-Hour Workweek), that inspired this blog post by me. Here is the article titled 8 Steps to Getting What You Want… Without Formal Credentials.
I have to warn you, it's a long post, but really is something I would have my son or daughter read.
Talks a lot about the question I posed in the title.
It's a great read, and I recommend it.
I also can't help but think about the blog post that caused a huge stir on my Josh Peak Training Facebook Page, when I posted about the Pay Pal's Co-Founder Peter Thiel offering $100k to a handful of college students for putting the brakes on college…
Thus choosing to be mentored by him. Here is that article titled Would you forgo college if offered $100k from a millionaire?
So I would like to hear from you, please leave a comment below.
Do you think the price tag of college education out ways the actual benefit?
Would you prefer to take the money paid for college education, and give it to a millionaire for mentoring… and a possible position with that millionaire?
Now… I know I am going to get the typical "but you have to have college to be come a lawyer, doctor, or other professions with hands on experience".
I agree with that, but in today's changing economy, does college really offer the tools to make it in the competitive environment… in the business world?
There is another argument that says, YES… if one goes to Harvard, Yale, University of Penn… then the contacts alone are worth the education.
I can agree with that!
Look forward to the discussion.