Hello my friends, I wanted to share with you a little marketing lesson here.
I have a great friend who made millions in the day in the Pro Wrestling promotions business…then sold his company to Ted Turner back in the 1980′s.
So, this guy really understands marketing and promotions.
He and I had a great debate on Glenn Beck being "let go"… let's face it.
His numbers were way down, lost sponsorship opportunities… and from my understanding… just didn't obey the commands set forth for him at Fox.
My great friends point was, Glenn Beck didn't listen to his audience and the ratings… completely abandoning the hints.
But, my argument was, so what that he got let go… he will do much better on the Internet. That is where his crowd is anyways. Let's face it, I love Glenn's energy, but in my opinion… he was a liability to Fox… they let him know it too.
But below is an e-mail of the exchange between my millionaire mentor and I.
As you can see, I think Glenn Beck has a much BIGGER opportunity by going the Internet route of marketing himself, conferences, and all his Internet properties… traffic equals revenue. It looks to me as if he took a piece from Gary Vaynerchuk (The author of Crush It). Glenn looks like he's building one big tribe (following) with his Internet property The Blaze.
In other words Glenn Beck is flat out crushing it by the traffic stats he has (look at my screen show below).
Glenn Beck has one hell of a Marketing Funnel… maybe even better than Fox does?
Screenshot of my email: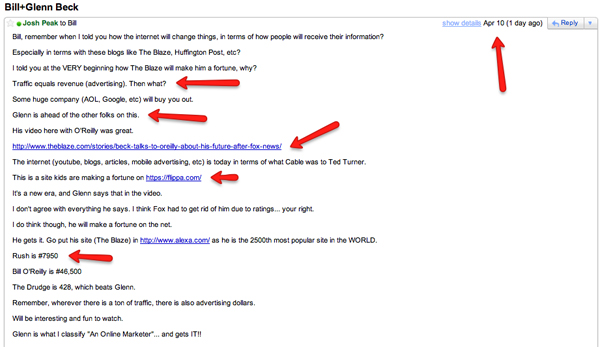 Click Here to See the Full Size
Tomorrow, I will show you his response. Not sure, but I think this will cause a stir, and some debate… will Glenn Beck do better with the Internet?
Is this just the start of Glenn Beck?
Or will he fade off as "yesterday's hero" or a "has been"??
We'll See.